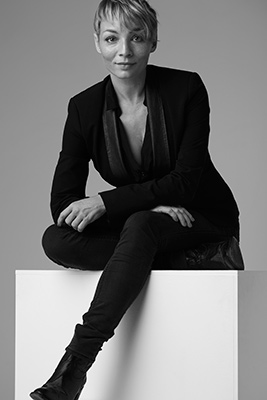 Sara Jangfeldt was born in Stockholm, Sweden.
Growing up, she received classical choral training at Adolf Fredriks Musikskola, while also participating in highly competitive youth programs in modern and classical dance, and drama.
Thus, by the time she was a teenager, Sara was already a multi-hyphenate performer, working in television and at several theaters in and around Stockholm.
After high school, Sara attended Balettakademien in Gothenburg, one of Scandinavia's most prominent three-year training programs in musical theatre, and was hired immediately upon graduation as a chorus member in the Gothenburg Opera's production of West Side Story.
During the run, Sara also performed several times as Anita.
Sara has acted, danced, and sung in multiple musicals all across Sweden:
A Chorus Line, Stop The World – I Want To Get Off, Evita, Godspell, Kiss of the Spider Woman, Chess, Kiss me Kate, The Rocky Horror Show, A Little Night Music, and Hair.
Sara has also been a featured soloist in multiple performances alongside national symphony orchestras in Stockholm and Gothenburg. In 2000, she got a chance to showcase her song- writing talents for the first time, when she premiered her one-woman show Enough Rope, directed by Ellen Lamm. Enough Rope is a tour-de- force monologue in speech and song based
on the life and works of Dorothy Parker. The show has been received with huge acclaim both in Sweden and internationally; outside Scandinavia, it has been staged on Capri, in Moscow and in New York City and eventually the legendary Polar Studios (home to ABBA among others)
produced a CD version of Sara's original songs for the show. In 2005, it was adapted into a short film for Swedish television. As a tv event, it has received prizes and mentions at the Banff television festival and the Golden Prague festival. In 2007, it served as Sweden's contribution to
Prix Italia.
In 2008, Sara co-wrote the musical Grymt! alongside Mathias Venge, and it was subsequently performed at the Gothenburg Opera House.
In the last decade, Sara has had close ties to Stockholms Stadsteater, the capital city's most prominent theater, where she has achieved great success in stagings of Uncle Vanya, The Cherry Orchard, Top Girls, Hair, A Little Night Music, and Aniara. In 2011, she was awarded the Annalisa Ericson Award for "eye-catching and talented contributions to Swedish song, dance,
and theater."
Sara's second foray into composition was in 2013, when she co-wrote the musical "Carmencita
Rockefeller" with Mathias Venge and Martin Östergren. The show has played in opera houses in
Malmö and Gothenburg, and gone on national tours.
In Spring 2014, Sara played Sally Bowles in a critically hailed production of Cabaret at Malmö City Theater.
In the last five years, Sara has been featured in multiple television shows, such as her co-lead in an episode of Crimes of Passion starring Ola Rapace and Tuva Novotny. Sara was a regular on the recent crima drama hit Before We Die.
Although Sara's main body of work is on the stage and television, she is also a member of the pop female trio Florence, which released its debut album Feel, produced by pop legend Benny
Andersson (ABBA), in 2006.
After returning to the stage to great acclaim to play the demanding lead role in Lola Blau and Mrs Wilkinson in Billy Elliot , Sara is currently playing Sibella in A Gentlemans handbook in Love and Murder at Oscarsteatern in Stockholm.